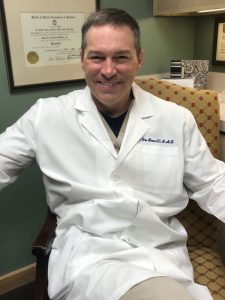 Donald Ellsworth Brown, III, DMD
Dr. Donald Ellsworth Brown III graduated from the University of Alabama at Birmingham School of Dentistry in 1998 after completing his undergraduate studies at Spring Hill College in 1993. He grew up here in Mobile, and has been practicing here his entire career.
Dr. Brown's primary goal is to provide the highest level of dental care in an environment where every patient feels as though they are part of our family. To that end, he is constantly furthering his dental education and skills, including advanced training master injector levels from the American Academy of Facial Esthetics. In addition to his membership in that organization, he is also a member of the American Dental Association and the First District Dental Society.
When not in the office, Dr. Brown enjoys outdoor activities including golf, hunting, and offshore fishing. He and his wife, Carol, have a daughter named Brittaney.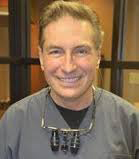 Donald Ellsworth Brown, Jr., DMD
The founder of Knollwood Dental Group, Dr. Brown has built a reputation for providing outstanding dentistry in Mobile for over 40 years. He achieved his Doctor of Dental Medicine at the University of Alabama School of Dentistry at Birmingham. Dr. Brown is an Army veteran, and he is a lifetime member of the Alabama Dental Association and the American Dental Association.
While he continues to practice part-time dentistry at Knollwood Dental Group, Dr. Brown has plenty of freedom to spend quality time with his wife, Leah, and their grandchildren. He also enjoys many other hobbies, including wood carving, traveling, reading, and rifle and bow hunting.
Meet Our Team
Knollwood Dental is pleased to have a team full of passionate, friendly, and experienced dental professionals who can give you and your family the care they deserve. Every member of our team works hard to stay up-to-date with the latest dental technology and techniques, ensuring that your treatments are as comfortable and convenient as possible. We love getting to know our patients, and we want to make sure that you always have a positive experience in our office. We invite you to get to know our team, and contact us with any questions!
Cindy Crews – Front Office
Cindy originally hails from Mississippi, where she graduated from Oak Grove High School. She relocated here in 2003 and soon after joined our practice. She excels at helping patients understand their dental needs, and is always a friendly face. She loves recognizing patients from over the years and becoming friends. She is especially appreciative of working with a team that is so supportive through thick and thin.
Cindy has three children, Lindsey, Cody and Matthew, an two grandchildren, Aidan and Clara Kate. She and her husband (our mail carrier) love to go antiquing and junking together. You can often find them at their booth at Antiques at the Loop.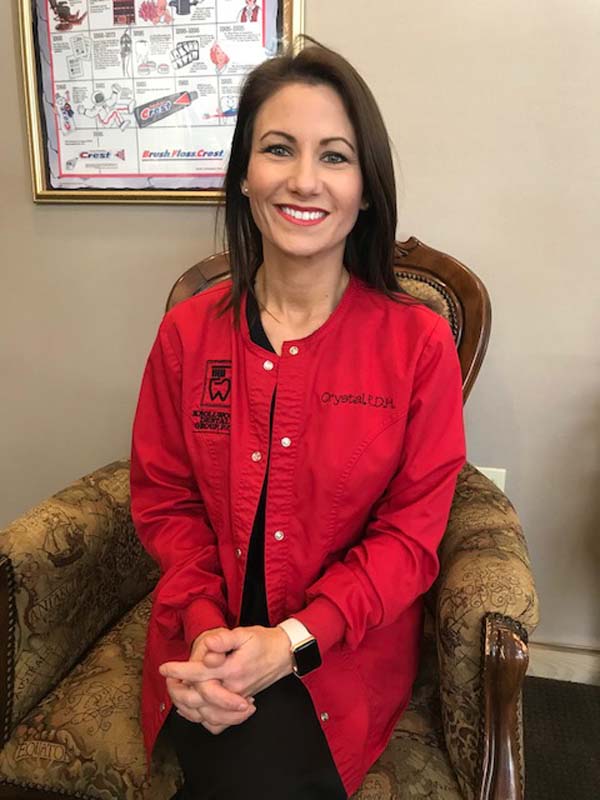 Crystal M. Littre – Registered Dental Hygienist
Crystal has been a member of the Knollwood Dental Group since 2017 and has a total of 10 years of experience providing safe and professional patient hygiene care. She attended the University of Alabama at Birmingham from 2007-2008. She graduated as one of the top ten students in her class.
Crystal loves the environment at our office. She appreciates the staff, which is hardworking, energetic, helpful and friendly. That atmosphere makes coming to work a pleasure for Crystal, and she sees Knollwood Dental Group as one big happy family. She also appreciates how the patients she sees on a daily basis make the office environment so amazing. They are so personable and friendly that Crystal always looks forward to coming to work.
Crystal comes to our office each and every day with the goal of helping the most people she can. She treats our patients the way she would like to be treated. She wants each patient to feel comfortable and to think of her as family.
Crystal gives all of our patients the individualized and professional service they deserve. That is why she always has a smile on her face! She thinks of herself as a small piece of the puzzle that makes Knollwood Dental Group the best dental practice that she has ever been a part of.
Crystal has been happily married for 18 years to her husband Jason who is an educator. She is the mother of two incredible children. She has a bright and beautiful daughter, named Adalyn Jade, and a handsome and energetic son, Brayson Edward. When she is not at work, Crystal likes spending time with her family, and watching her kids at their sporting events and competitions. She also enjoys cooking, shopping, and spending time at our beautiful gulf coast beaches with her family.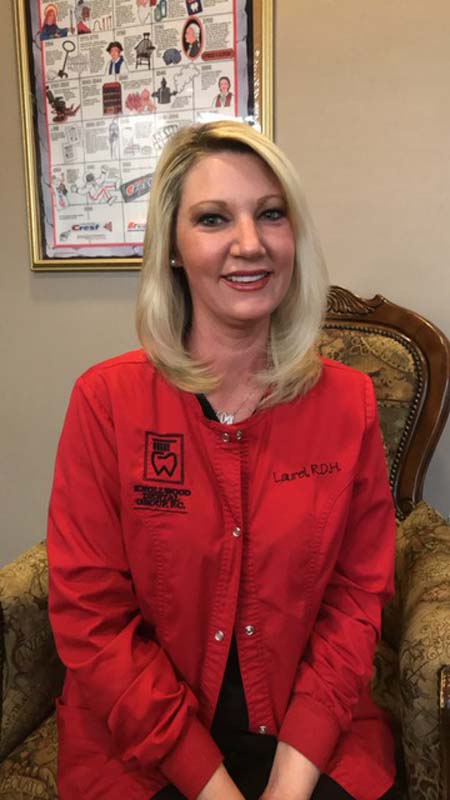 Laurel Phelps – Registered Dental Hygienist
Laurel has been a part of Knollwood Dental Group for 18 years. She graduated from dental hygienist school in 2008. As a loyal and long-term member of our team, Laurel appreciates her work family, and the familiar faces of our patients.
After over 20 years in dentistry, Laurel has a great deal of compassion for our patients and their needs. She also loves the bonds she has formed with our patients, her co-workers, and Dr. Donald Brown III.
Laurels is married with an 11-year-old son. In her spare time, she enjoys traveling with her family and spending time at the beach.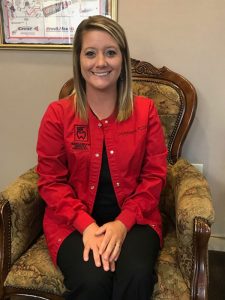 Stephanie Jordan – Registered Dental Hygienist/Front Desk
Stephanie loves being in the dental field, and has been in it for over 12 years. She graduated from Mary G. Montgomery High School in 2004 and graduated from the University of Alabama at Birmingham's dental hygiene school in 2013. She consistently gives our patients the best care and knowledge she can, and particularly enjoys educating them about their unique oral care needs.
When not at work, Stephanie's favorite thing to do is spent time with her family. She and her husband, Aaron, have two boys, Jayden and Noah, and three dogs. Together they like to ride on their boat and go on family vacations.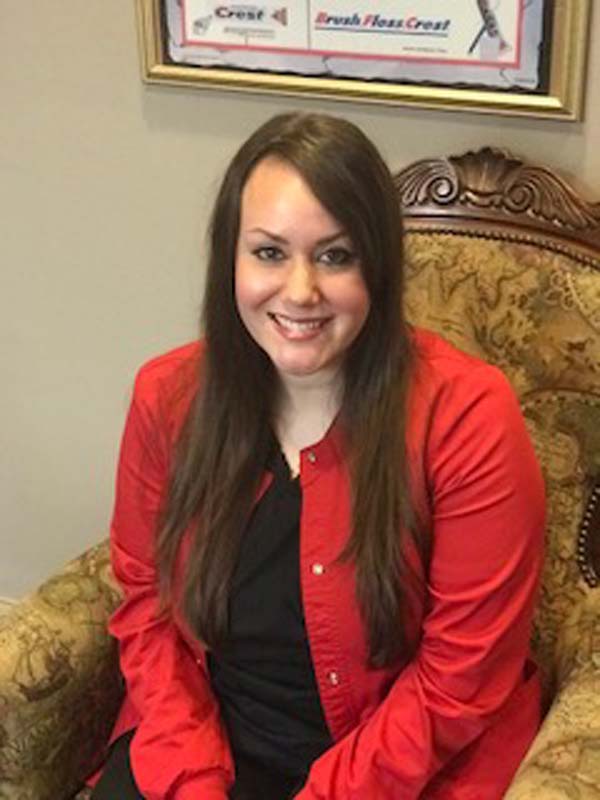 Leigh Nguyen – Certified Dental Assistant
Leigh has been with Knollwood Dental Group since 2017. She received her dental assistant certification through hands-on learning through the State of Florida. For Leigh, the best part about working in our office is the patients. She loves being a part of the process that helps our patients feel better about themselves and their smiles. With 10 years of knowledge of the dental field, Leigh brings her upbeat personality, patience, and understanding of our patients needs to our team.
Leigh is passionate about her work due to her family and children. When she was younger and a single mother, she chose the dental field to give herself and her son a better start. She has stuck with it ever since, and still wakes up every day loving her career, even after 10 years! She sees each day as a blessing and gives her all.
Leigh is married with three children.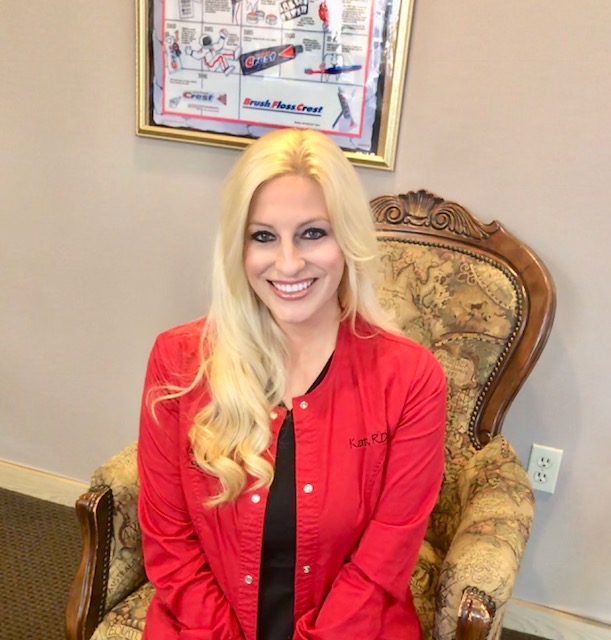 Katie Brown Stacey – Office Manager and Registered Dental Hygienist
Katie has been a part of the Knollwood Dental Group team since 1997. She holds a Bachelor of Science in Biology from the University of South Alabama and became a registered dental hygienist through the University of Alabama at Birmingham in 2007.
Katie appreciates the fact that Knollwood Dental Group is family-owned and operated, and that every patient is treated like an individual. She enjoys finding ways to help people feel confident in their smiles. She wants to make every visit to the office a positive one and to help each patient in any way she can. She wants every patient to feel like a member of the family, and to feel at home during their visit. Her time with us has allowed her to build relationships with our patients, and she looks forward to seeing them year after year.
Katie is married with two boys. When she is not at work, she likes to spend time with her family, vacationing, and enjoying the outdoors.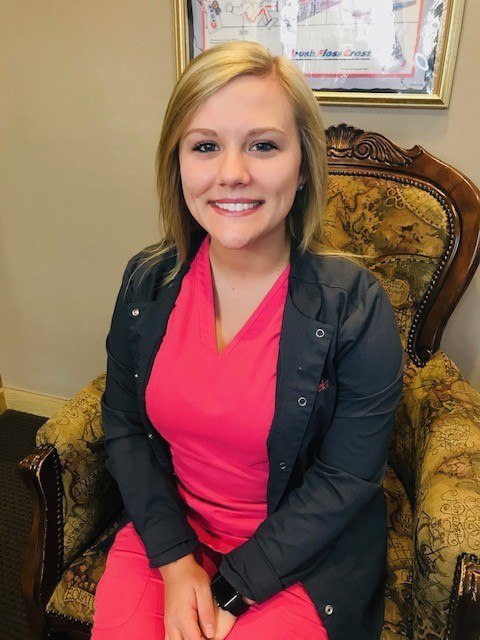 Beka – Dental Assistant
Beka has been with our team since 2017. She works closely with Dr. Brown to help keep our patients happy, and loves the teamwork at our office. Beka and her fiancé, Stephen, are engaged to be married in December 2018. They have two dogs, Drake and Renomie.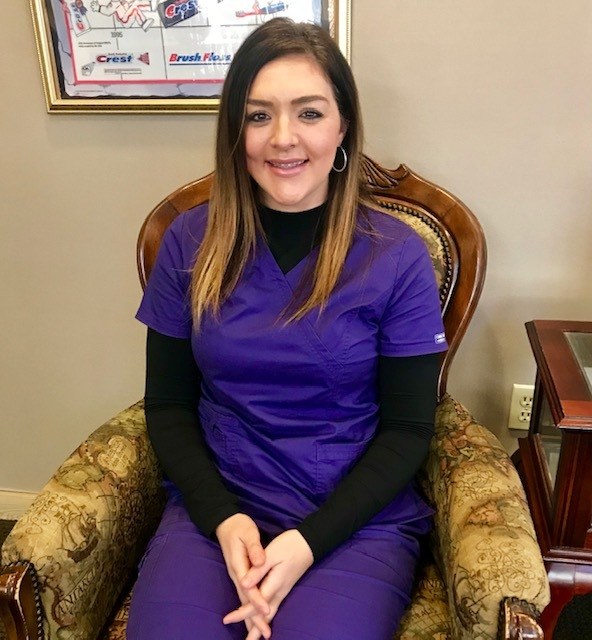 Chelsea Crigler – Dental Assistant
Chelsea graduated from Fortis College in 2012 and has been with our practice for over six years. She loves that our practice is like a family that works together to make patients feel part of our dental family. She is always looking to improve, learn and give more to our practice and patients. She likes to work as if it is her practice and takes great pride in all that she does. To her, dental assisting is more than just a job, and she appreciates all of the friends and support she has gained throughout her time here.
Chelsea has a loving husband named Stewart, and they are foster parents to three beautiful children. In her free time, she enjoys attending church, playing softball and watching football.